Paul Stanley Again Suggests Ace Frehley Isn't Fit To Tour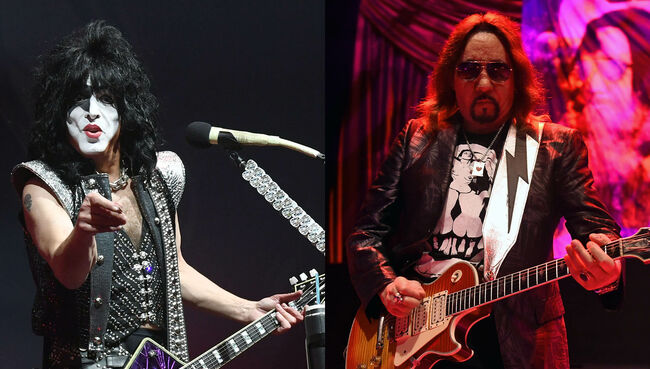 While Paul Stanley insists that KISS's offer to bring back former members for guest appearances on the band's final tour is still on the table, he says the "End of the Road" tour was never intended to be a reunion tour.
After repeatedly shooting down the idea over the past few years, front man Paul Stanley softened his stance on the subject when Kiss announced its farewell tour last year, saying former members could join the band for brief "one-off" collaborations.
Another lineup change for the "End of the Road" tour was never on the table, he tells the Chicago Tribune in a new interview.
"This was never going to be a reunion tour of any members," he said. "This is a celebration of the history of this band and the success of this band."
Kiss fans have been hopeful for a reunion of the original lineup of the band, frankly, since the last tour in which co-founding guitarist Ace Frehley and co-founding drummer Peter Criss went out with the band almost 20 years ago.
Stanley continued with a similar refrain about Kiss's current lineup being in place for 17 years, longer than any other version of Kiss. Any suggestion that Kiss was open to changing that was "ridiculous," he added.
"Certainly, I've always been open to the idea of former members being part of an evening in a one-off form, but it has nothing to do with KISS as an entity," Stanley continued. "I celebrate the past, but I don't want to live in it."
He concluded: "When I was watching the Super Bowl, at the end I saw Joe Namath carrying the trophy up to the stand. It was great to see him, but I don't think anybody wanted him to suit up and get on the field."
Stanley's Namath analogy echoes one given in a Guitar World interview earlier this year in which he and bassist Gene Simmons discussed the final tour. Simmons said flatly that Kiss could not "depend" on Criss or Frehley doing "a full set night after night," and Stanley agreed.
Those quotes to Guitar World prompted Frehley in January to lay into Stanley and Simmons for constantly dredging up his history of addiction, despite the fact that he's 12 years sober and has been recording and touring regularly throughout that time.
For years, Stanley shot down talk of any reunions in Kiss. But his statements about all former members being "welcome" on the final tour (with the exception of former guitarist Vinnie Vincent) were if not a partial reversal a change in messaging on the subject.
Criss announced his retirement from performing in 2017 and has almost entirely stayed out of the conversation around Kiss's farewell tour.
Frehley, meanwhile, until apparently writing off Kiss in January had spent several years agitating for a third go-around with the iconic band, making overtures to reconnect with Stanley and Simmons.
He has made it clear that he would never agree to a one-off with Kiss — especially with Tommy Thayer wearing the "Spaceman" getup that Frehley designed all those years ago.
Frehley said in an interview last October that he believed Kiss was "testing the waters" for a reunion, judging from some of Stanley's vague statements about being open to performing with former members and due to the fact that Kiss announced its "End of the Road" tour without initially revealing any tour dates.
Kiss's "End of the Road" tour will be traversing North America through September.
Photo: Getty Images

Maria Milito
ON AIR: Weekdays 9AM-2PM. Maria Milito, a native New Yorker, has been heard on Q104.3 since 1996 playing your Beatles and Workforce Blocks!
Read more