Geezer Butler Was Sure Ozzy Osbourne Was Crazy When They First Met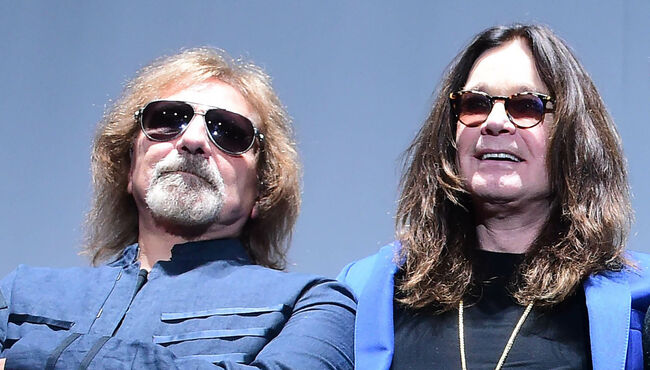 Ozzy Osbourne is one of music's most legendary loose cannons.
It seems the iconic front man became more and more unpredictable the more successful he got. As Black Sabbath bassist Geezer Butler tells it in a recent interview, Ozzy was already a long way from "normal" when they first met as unknown musicians in Birmingham, England, in the late-1960s.
Butler told Music Radar that Ozzy made it very clear during their first meeting that he was out of his mind.
"My first impression of Ozzy was that he was not the full shilling, as we used to say back then," Butler said. "I'd seen his 'Ozzy Zig Needs Gig' advert in the local musical instruments store and noticed he lived a few streets away from me in Aston. I went around to his house, but he wasn't in. Later that day, there was a knock on the door and my brother said, 'There's someone asking for you.' I opened the door and there was this skinhead, with a factory gown on, no shoes or socks, a chimney brush over his shoulder and a sneaker on a dog lead."
Rather than calling the police, Butler says he quickly concluded, "He was perfect for me band."
Butler neglected the second part of Ozzy's ad, which advertised that he owned a PA system — an essential for any gigging band at the time.
Butler and Ozzy soon joined up with guitarist Tony Iommi and drummer Bill Ward in a band called Earth, which later renamed itself Black Sabbath.
Black Sabbath retired in 2017, but the individual members (including Ward, who did not return to the band for its final tour) remain at least somewhat active.
Iommi has pledged to release a new album, either as a solo artist, or in collaboration with a fellow legend.
Ozzy is in the midst of his No More Tours 2 farewell tour, which was recently put on hold as he recovers from pneumonia.
Late last year, Butler revealed his new band, Deadland Ritual, featuring former Guns N' Roses drummer Matt Sorum, Billy Idol guitarist Steve Stevens and singer Franky Perez.
So far, Deadland Ritual, has released one single with plans to unveil a full-length album sometime this year. The band will hit the road in June for its first tour.
Photo: Getty Images

Maria Milito
ON AIR: Weekdays 9AM-2PM. Maria Milito, a native New Yorker, has been heard on Q104.3 since 1996 playing your Beatles and Workforce Blocks!
Read more