Ann & Nancy Wilson To Reunite For NYC Benefit Performance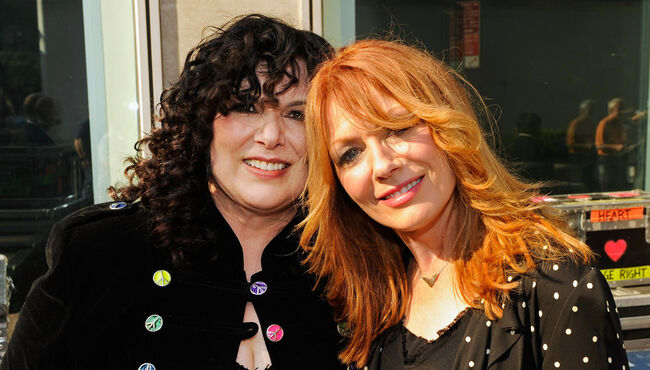 Heart's Nancy and Ann Wilson will perform together for the first time in almost three years at the upcoming Love Rocks NYC benefit.
The star-studded benefit is the third annual concert fundraiser for the God's Love We Deliver non profit, which provides meals and nutrition counseling for people living with severe illnesses.
The sold-out concert, which also features Robert Plant, Sheryl Crow, Billy F. Gibbons, Grace Potter and Buddy Guy among others, takes place at New York's Beacon Theatre on March 7. The benefit has raised over $5 million since 2017.
Ann and Nancy Wilson were added to the bill Monday in a statement by Love Rocks NYC co-executive producer Greg Williamson.
"John Varvatos and I are so honored and excited that Ann and Nancy Wilson are kicking off their epic nationwide reunion tour with a special appearance at Love Rocks NYC," Williamson said.
Ann and Nancy recently announced they are reforming Heart for a summer tour after a nearly three-year hiatus.
The Wilsons' separation was brought on by an ugly incident in the summer of 2016 involving an altercation between Ann's husband and Nancy's two sons.
While both sisters were clear that they expected to reconcile, during their row neither was certain about when they would patch things up or if Heart would return.
A breakthrough came late last summer when Ann acknowledged during an interview with Q104.3 New York's Jim Kerr and Shelli Sonstein that she and Nancy were talking again and planned to discuss Heart in the coming weeks.
Based on what Ann told Q104.3 in September, the love between the sisters and their music is real.
"I will never agree to going back out there in a mechanical, money grab-type way," she said. "At this point in my life, I'm not going to do that. I'm going to make every minute count and make it real. So we'll talk and we'll figure out if we an figure out a fresh, cool way."
Photo: Getty Images

Ken Dashow
Listen to Ken Dashow everyday on Q104.3 New York's Classic Rock and don't forget about Breakfast With The Beatles every Sunday Morning.
Read more