Sebastian Bach Says KISS Isn't Faking It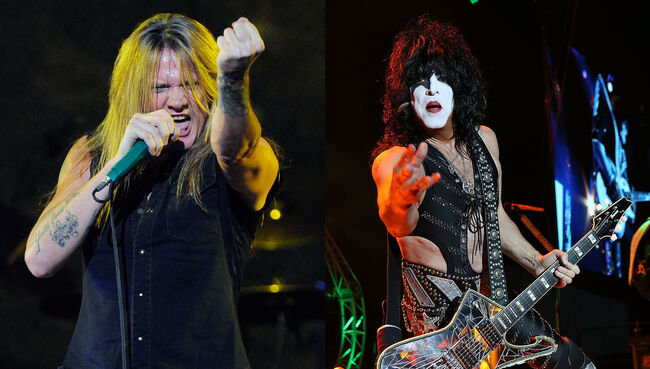 Sebastian Bach has heard the lip-syncing accusations against KISS, but after seeing the iconic rock band live, he's telling fans in no uncertain terms that Kiss is performing live on its End of the Road farewell tour — at least at the Anaheim, California, show he attended.
The former Skid Row front man saw Kiss on Tuesday, then took to Twitter late-Wednesday night to respond to the allegations against the Rock and Roll Hall of Famers. Baz suggested that the people saying Kiss is faking it probably haven't seen the band's show in person this time around.
He later clarified: "I am saying that I went to see KISS and I f---ing saw KISS. I listened to Paul Stanley sing his ass off LIVE. I paid tribute to the band that has given us more than any other band that any of us can name. I have seen way more obvious use of backing tracks [than] with KISS."
Kiss has been accused of lip-synching and miming instrumental parts since its America's Got Talent appearance last September. Many fans have suggested the band has kept up the charade in concert on tour. Fans have posted dozens of clips on social media of incidents that they say prove Kiss isn't playing entirely live.
An accomplished singer and performer like Bach would know what he's talking about. But to be honest, it seems like it would be difficult to tell what's real and what's not in a large venue. And there's a lot of evidence to the contrary.
The most plausible explanation is that Kiss is using a combination of backing tracks and live playing, like many bands do, or that it simply depends on what Stanley's voice is capable of the day of the show. Stanley has been open about his struggles with throat problems over the years. The front man has assured fans that he worked hard to be in tip top shape for Kiss's final tour.
Mötley Crüe's Nikki Sixx made it clear earlier this week that he's made use of backing tracks since the late-'80s with his bands. Sixx says there's nothing wrong with using tracks, as long as you don't try and hide it.
But that's the rub with many rock fans. Kiss bassist Gene Simmons, in particular, has been highly critical in the past of artists using "fake bulls--t" instead of playing totally live.
Many more fans, however, just don't care; as long as they had a good time at the show, that's money well spent. And it's hard to argue with that logic.
Photo: Getty Images

Ken Dashow
Listen to Ken Dashow everyday on Q104.3 New York's Classic Rock and don't forget about Breakfast With The Beatles every Sunday Morning.
Read more